What is Eterbase and why would anyone use it?
With so many cryptocurrency exchanges out there you might wonder, why make another one? How are they going to be different? Why would anyone bother using this new exchange?
Well, even though there are indeed a lot of well established exchanges out there, the truth is that most of them are not regulated, in fact some of them are borderline illegal. Eterbase is the first regulation-compliant European cryptocurrency exchange.
While this may not be important for some people, you should know that cryptocurrencies are being regulated all over the world and soon enough non-regulated exchanges will stop existing.
There are, of course, other important features:
A strong team

:

The team members of any project are always a very important aspect when you are looking to invest or participate in the project. Eterbase team has decades of experience in the financial sector. Kenneth Kumor for example, also has extensive knowledge in the cryptocurrency field being an advisor for Bethereum and a member of the Bitcoin Foundation. More about Eterbase Team here: https://www.eterbase.com/about

Fees and Fiat: Eterbase offers zero fees for market makers and takers. While most Cryptocurrency exchanges do not have any fiat support, Eterbase aims to offer multiple fiat pairs including CHF, EUR, USD.

Listing Requirements for Coins/Tokens: Eterbase wants to make it easy for good and promising tokens/coins to get listed on their exchange. Listing fees will be different according to the type of coin/token instead of the market capitalization

Interface: The interface and functions of an exchange might be the most important parts. Eterbase will offer a very intuitive interface which will allow users to make trades very easily. Eterbase will also introduce something called ''Social Trading'' which will allow users to interact with top traders and follow them.
Membership Token
A lot of exchanges create their own unique token but they are often useless. Eterbase membership token (XBASE) will allow members to access different membership tiers. Higher tiers will have better and sometimes exclusive features over the lower tiers as shown below.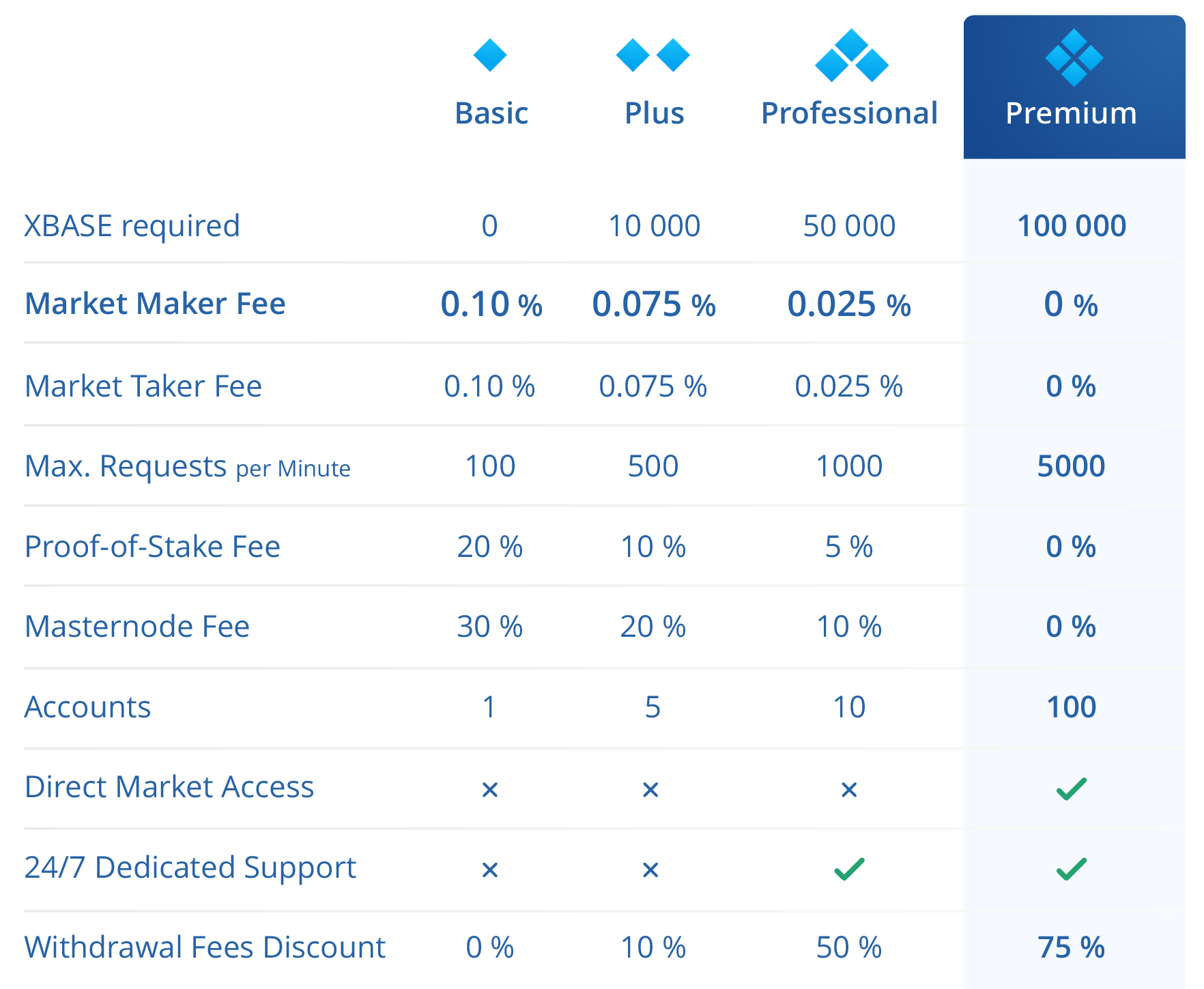 Eterbase Fees
Eterbase's fees will be based on a tiered membership scheme. The more tokens you've deposited into the Eterbase platform, the higher your membership tier will be. Members on a higher tier will pay lower commissions than members on a lower tier.
Here's how fees break down:
Basic (0 XBASE Required): 0.10% (maker fee), 0.10% (taker fee)
Plus (10,000 XBASE Required): 0% (maker fee), 0.075% (taker fee)
Professional (50,000 XBASE Required): -0.01% (maker fee), 0.05% (taker fee)
Premium (100,000 XBASE Required): -0.02% (maker fee), 0.03% (taker fee)
Other bonuses are available as you move to a new membership tier. Members with 0 XBASE tokens, for example, can issue a maximum of 100 requests per minute, while the other three tiers allow 500 to 5,000 requests per minute. Premium members can register up to 100 accounts. They also have a 75% discount on withdrawal fees, among other benefits.
Final Thoughts
Eterbase proves to be a really strong upcoming exchange that matches and even surpasses some of the other exchanges in terms of regulation or features. With a very easy to understand UI and a strong engine Eterbase seems to have all the tools to be a successful exchange in the near future. I personally love any exchange that allows me to buy cryptos directly with fiat. You can read the whitepaper here:
https://www.eterbase.com/whitepaper
#ETERBASE TEAM
ETERBASE is overseen by an extensive variety of individuals who have involvement in their field either as far as advancement or digital money. This is the thing that makes ETERBASE overseen by somebody who is proficient so it doesn't give a terrible impression to their stage.
How are you keen on utilizing ETERBASE? On the off chance that you are keen on ETERBASE you can get more data about ETERBASE by visiting the connection beneath.
Author: deadser